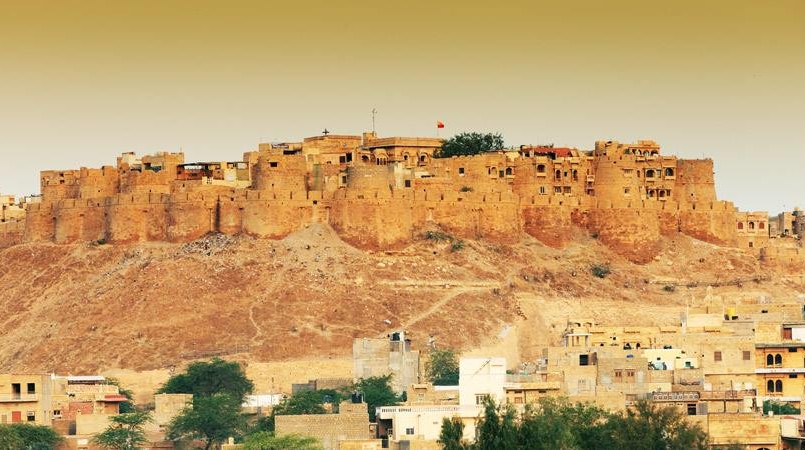 Jaisalmer "The Golden city", is a city in the Indian state of Rajasthan, located 575 kilometres (357 mi) west of the state capital Jaipur. Once known as #Jaisalmer state it is a World Heritage Site. The town stands on a ridge of yellowish sandstone, crowned by a fort, which contains the palace and several ornate Jain temples. Many of the houses and temples are finely sculptured. It lies in the heart of the #Thar #Desert (the Great Indian Desert)
Origin of name
Jaisalmer is named after Maharawal Jaisal Singh, a Rajput king who founded the city in 1156 AD.[1] "Jaisalmer" means "the Hill Fort of Jaisal". Jaisalmer is sometimes called the "Golden City of India" because the yellow sand and the yellow sandstone used in every architecture of the city gives a yellowish-golden tinge to the city and its surrounding area.
Location
It is the largest district of Rajasthan and one of the largest in the country, hugged on the west & south-west by the Pakistani border. The length of the international border attached to Jaisalmer District is 471 km (293 mi)
Jaisalmer Fort[
Built in 1156 by the Bhati Rajput ruler Jaisal, Jaisalmer Fort, situated on Meru Hill and named as Trikoot Garh has been the scene of many battles. Its massive sandstone walls are a tawny lion colour during the day, turning to a magical honey-gold as the sun sets. The famous Indian film directorSatyajit Ray wrote a detective novel and later turned it into a film − #Sonar Kella (The #GoldenFortress) which was based on this fort. This is a living fort and about a quarter of city's population still live inside the fort. The main attractions inside the fort are: Raj Mahal (Royal palace), Jain temples and the Laxminath temple.
Jain heritage of Jaisalmer[
Jaisalmer has been enriched by its #Jaincommunity, which has adorned the city with beautiful temples, notably the temples dedicated to the 16thTirthankara, Shantinath, and 23rd Tirthankara, Parshvanath.
There are seven Jain temples in total which are situated within the Jaisalmer fort. Among these temples, the biggest one is the The Paraswanath Temple and is most attractive; others beingChandraprabhu temple, Rishabdev temple, Shitalnath Temple, Kunthunath Temple, and Shantinath Temple. Known for their exquisite work of art and architecture that was predominant in the #medieval era the temples are built out of yellow sandstone and have intricate engravings on them.
Jaisalmer boasts some of the oldest libraries of India which contain rarest of the manuscripts and artefacts of Jain tradition. There are many pilgrimage centres around Jaisalmer such asLodarva (Lodhruva), Amarsagar, Brahmsar and Pokharan.